SIT (Hokkaido Sapporo Intercultural & Technological High School)
SIT School Symbol

Founded in 1995, Sapporo Intercultural and Technological High School (SIT) offers a wide-ranging curriculum with an emphasis on intercultural understanding and information technology, catering specifically to students' interests and potential career paths, to enable them to reach their full potential and realize their dreams.
SIT offers four separate courses for each grade: General Course (80 students), Foreign Studies (80 students), Science and Engineering (40 students), and Global Business (120 students). Within these courses students can choose from a variety of classes according to their own interests. The school has around 100 teaching staff who provide careful and enthusiastic support to students. In addition, two native English-speaking teaching assistants are on staff to supply foreign language support.
SIT staff uses their best endeavors to provide students with opportunities and experiences which will enable them to develop a more global outlook, and to acquire the values to become well-rounded individuals.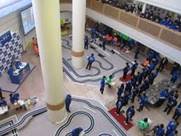 With this goal in mind, SIT offers extracurricular events throughout the year such as the school festival, a presentation contest for each course, an English camp for the Foreign Studies Course, a microcomputer-driven miniature car rally for the Science and Engineering Course, ski trips, and exchange activities with international students who occasionally visit our school.
SIT shares an exchange program with its sister school, Nobles & Greenough School located in Massachusetts, USA. In 2016, SIT welcomed 11 Nobles students to its campus, and in return, in 2015, eight SIT students were sent to Nobles for a short exchange trip. And two SIT students participated in a longer homestay program. Every year, the entire second-year grade visits Hawaii for their school trip in order to build their international understanding.
SIT is an exceptional school where students can take their first step towards a brilliant future!